HOUSE
NISHIAZABU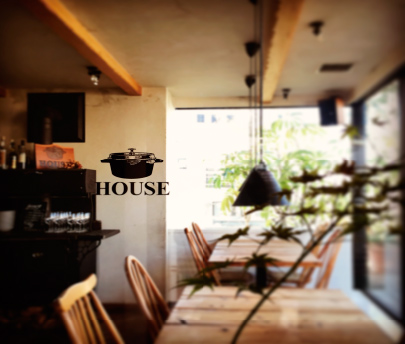 " Comfort " in the sense of " comfort " , words that from a long time ago . " Comfort Food " is , if you literally being interpreted as a " pleasant home cooking " .In Gather to people seeking meals with a foot in the " earth , We created the Comfort food spots " of the world .Philosophy of Gather as much as possible , in organic and sustainable ingredients , handmade . The coming era , to find that there is a meaning to all of life style Attempts to revive it to grow things in their own hands Connection is between people , we're trying very Kodawaro .Meaning of life , is in the land and work and people It to be expressed through food .
心地よいアンティークの匂いが残るお部屋に、 我家の台所のように広がるオープン・キッチン。テラスにあるハーブやグリーンに包まれた店内はまるで「HOUSE-家」のようなくつろぎを提供します。日本各地の生産者から日々新鮮な食材が届きます。その食材の力を存分に引き出しながら、確かなフレンチの技術をベースに調味料は使わずに食材の組合せだけでシンプルに仕上げるホ−ミ−な料理。言わば現代の「東京料理」。また、鋳物鍋「STAUB」を使用したメニューは私たちの自慢の一つです。豊富に取りそろえた自然派ワインと共に、素材の魅力と食する喜びをお楽しみください。
東京都港区西麻布2-24-7 西麻布MAビルディング4F  Google Map
Tel. 03-6418-1595
月~金 18:00~(LO.24:00)
土・祝 18:00~24:00(LO.23:00)
定休日 日曜・年末年始

http://www.housestaub.jp
HOUSE
BROOKLYN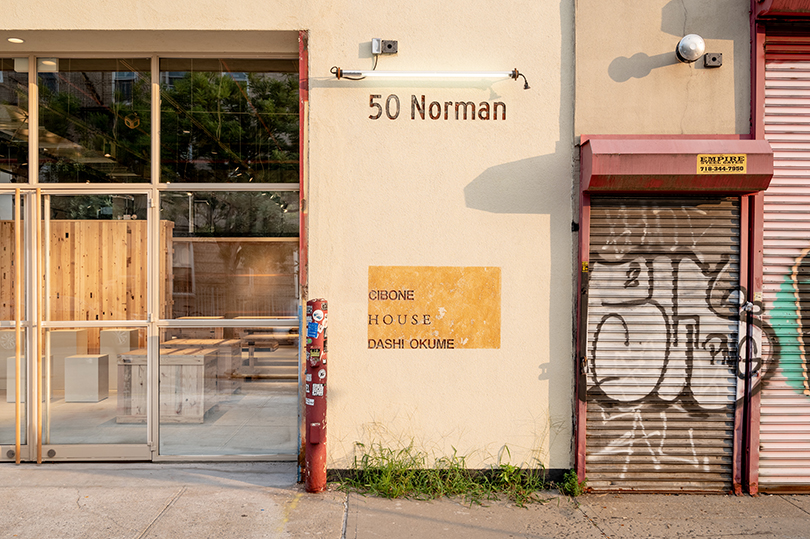 Yuji Tani, the owner chef of the restaurant HOUSE in Tokyo, has been holding collaborative dinners with many restaurants and chefs such as "Chez Panisse" in California, "Carousel" in London, "Bouley" in New York,
He also works with knife craftsmen and ceramic masters to make kitchen utensils.
As he met and communicated with friends who loved food from around the world, transcending language barriers, he had the desire to convey the Kyoto culture of his hometown to many people around the world.
Based on this idea, in March 2020, we decided to open the restaurant "HOUSE Brooklyn" in Brooklyn, a city where various cultures are mixed.
The restaurant design is a brewery that was built about 130 years ago, there are brick walls, large pillars and beams at the time, and it feels warm.
In addition, the kitchen is like an old-fashioned Japanese kitchen with an open kitchen.
HOUSE Brooklyn makes full use of the power of fresh ingredients received daily from producers near NY,
A dish that uses a French technic as a base for Kyoto cuisine, and finishes it as simple as possible without using seasonings. In other words, we will offer the next generation Japanese cuisine "N E W Kyoto cuisine".
We also prepared a wide selection of natural wines and sake.
Please enjoy "N E W Kyoto cuisine" with a natural and essential taste and art-like arrangement in a relaxing space like a fun home party at "HOUSE Brooklyn".
東京にあるレストランHOUSEのオーナーシェフYuji Taniは
カリフォルニアの"Chez Panisse"、ロンドンの"Carousel"、ニューヨークの"Bouley"など
多くのレストランやシェフとコラボレーションディナーを開催したり、
また、鍛冶屋職人や陶芸家と一緒に道具などを共作するなどの活動もしています。
そんな彼は言語の壁を超えて世界各地の食を愛する友達と出逢いコミュニケートしていく中で、次第に彼は出身地の京都料理文化を汲んだ新しい料理を世界の多くの人々に伝えたい想いを抱きました。
そんな想いを元に2020年3月、様々な異文化が混ざり合う街 Brooklynで、レストラン「HOUSE Brooklyn」をオープンすることにしました。
レストランデザインは約130年前に建てられたブリュワリー跡、当時のレンガ壁や大きな柱、梁があり暖かみを感じ、キッチンは昔懐かしい土間の様なオープンキッチンが印象的など、出来るだけ手を加えずに心が落ち着ける空間です。

HOUSE Brooklynの料理は、N Y近郊の生産者から日々届く新鮮な食材の力を存分に活かして、京料理をベースに確かなフレンチの技術を駆使し、可能な限り調味料を使わず、シンプルに仕上げる料理。言わば次世代の和食「N E W京料理」。
また、豊富にそろえた自然派ワインと日本酒もご用意いたしました。

「HOUSE Brooklyn」で楽しいホームパーティの様な寛ぎ空間で、自然で本質的な味、アートの様な盛り付けの「N E W京料理」を味わって下さい。
620 Franklin Avenue Brooklyn NY 11238 USA  Google Map
火~木 17:00~23:00
金・土 17:00~24:00
定休日 日曜・月曜
https://house-bk.com/