HOUSE
NISHIAZABU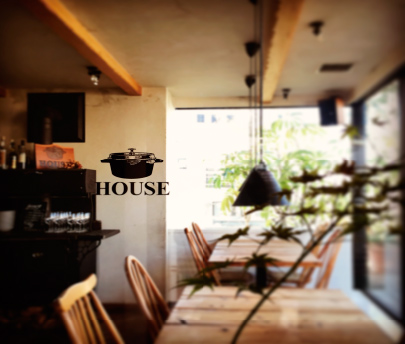 " Comfort " in the sense of " comfort " , words that from a long time ago . " Comfort Food " is , if you literally being interpreted as a " pleasant home cooking " .In Gather to people seeking meals with a foot in the " earth , We created the Comfort food spots " of the world .Philosophy of Gather as much as possible , in organic and sustainable ingredients , handmade . The coming era , to find that there is a meaning to all of life style Attempts to revive it to grow things in their own hands Connection is between people , we're trying very Kodawaro .Meaning of life , is in the land and work and people It to be expressed through food .
心地よいアンティークの匂いが残るお部屋に、 我家の台所のように広がるオープン・キッチン。テラスにあるハーブやグリーンに包まれた店内はまるで「HOUSE-家」のようなくつろぎを提供します。日本各地の生産者から日々新鮮な食材が届きます。その食材の力を存分に引き出しながら、確かなフレンチの技術をベースに調味料は使わずに食材の組合せだけでシンプルに仕上げるホ−ミ−な料理。言わば現代の「東京料理」。また、鋳物鍋「STAUB」を使用したメニューは私たちの自慢の一つです。豊富に取りそろえた自然派ワインと共に、素材の魅力と食する喜びをお楽しみください。
東京都港区西麻布2-24-7 西麻布MAビルディング4F  Google Map
Tel. 03-6418-1595
月~金 18:00~(LO.24:00)
土・祝 18:00~24:00(LO.23:00)
定休日 日曜・年末年始

http://www.housestaub.jp
HOUSE
BROOKLYN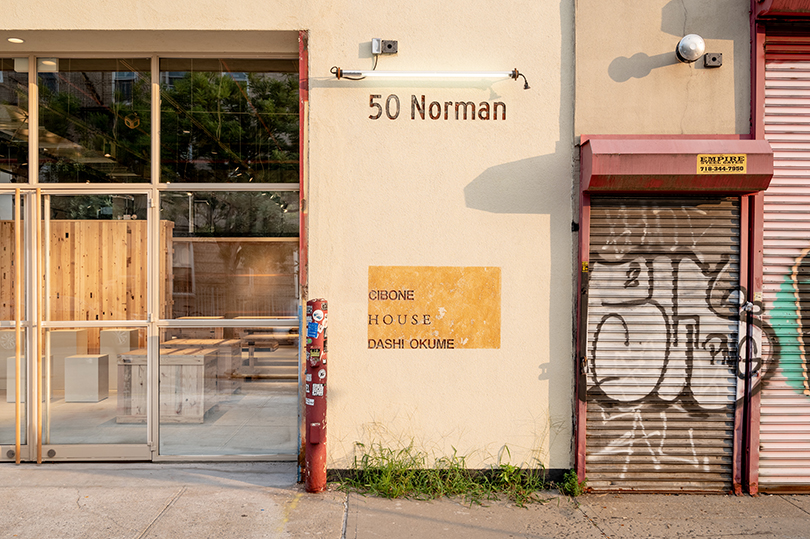 Born and raised in Kyoto, Chef Yuji Tani worked in sales for a long-established local bedding company before deciding to hone his skills at an acclaimed French restaurant in Kyoto. Tani then moved to Tokyo, and after serving as executive chef at several restaurants, he opened HOUSE Tokyo in Nishi-Azabu in 2007. In 2015, Tani obtained full ownership of the restaurant and became owner-chef.

HOUSE Tokyo is known for adding a new twist to French cuisine and for offering relaxed and friendly service, which led them to be featured in many publications including Andrea Fazzari's Tokyo New Wave, which showcases the new guard of Tokyo's vibrant food scene. Tani also established relationships with professional kitchens all over the world by participating in numerous collaborative dinners and art events in cities including London, San Francisco, New York, and Tokyo.

Tani continued to chase his long cherished dream; to open his restaurant in New York. He finally relocated to Brooklyn in 2019 with his family to open HOUSE Brooklyn. Tani is excited to share a new cuisine with New Yorkers in Greenpoint, Brooklyn, his favorite neighborhood in the city.

While Japanese cuisine is known for its use of the freshest ingredients of the highest quality, Kyoto cuisine in specific is historically known for incorporating skillful techniques to preserve the ingredients, which can be seen in French gastronomy too. French cuisine does so artfully by layering flavors with herbs and spices, while Kyoto cuisine relies on the science of fermentation and dashi. Combining the French techniques with the minimalist Kyoto-style approach, Chef Yuji Tani serves a unique unparalleled French Japanese cuisine at HOUSE Brooklyn in Greenpoint.
京都で生まれ育ったシェフの谷祐二は、地元の老舗寝具会社で営業をした後、京都で評判の高いフレンチレストランでスキルを磨くことを決意しました。その後、東京に移り、いくつかのレストランで総料理長を務めた後、2007年に西麻布にHOUSE TOKYOをオープンしました。2015年に、シェフ谷はレストランの完全な所有権を取得し、オーナーシェフになりました。

HOUSE TOKYOは、フランス料理に新たなひねりを加え、リラックスしたフレンドリーなサービスを提供することで知られています。そのため、アンドレアファザーリの東京ニューウェーブなど、東京の活気あるフードシーンの新進気鋭なシェフを紹介する多くの出版物に取り上げられました。シェフ谷はまた、ロンドン、サンフランシスコ、ニューヨーク、東京などの都市で開催された数多くのコラボレーティブディナーやアートイベントに参加することで、世界中のプロフェッショナルなキッチンチームとの関係を築きました。

谷は長年の夢を追い続けました。ニューヨークに彼のレストランを開くために。彼はついに2019年に家族と一緒にブルックリンに移住し、HOUSE Brooklynをオープンしました。谷は、ブルックリンのグリーンポイントにあるニューヨーカーと新しい料理を共有できることに興奮しています。
50 Norman Ave Brooklyn, NY, 11222 Google Map
OPEN HOURS:
Wednesday-Saturday 18:00~20:15; 20:30~22:15
https://house-bk.com/